Pre Surgery Education
When I started researching Bariatric surgery I had some experience, but it had been so long I really didn't know what to expect in regards to the process. By time I made up my mind to have the procedure I was ready. I was ready right then and waiting was not going to be something I was going to want to do. My doctor is part of the Prisma Health System. I am so glad I chose this program. As much as I have hated waiting all this time, I am so glad. I started in December 2019 in the program. My insurance required a 6 month Dr. supervised weight program. But even if my insurance didn't have a waiting period, this program required a minimum of 3 months in their education program in order to make sure that you are ready to have surgery. They don't just throw you to the wolves. If you fail, its going to be because you didn't follow the plan. Their plan is specific and intense. Classes upon classes. Information is given to you more than one time. You know exactly what to do and if you don't its because you slept through the classes.
Shakes, bars and soups oh my!
One of the biggest and hardest parts of the pre surgery program, in my opinion, is the 30 day pre op diet. They use products called Optifast. It is a variety of shakes, bars and soups. The daily diet includes 5 Optifast products and one VERY reasonable meal. 4 oz of lean protein, 1 cup non starchy vegetables and 1 cup of fruit. I just had my first shake. I chose chocolate. It wasn't bad, but I think I need a blender so I could mix some ice with it and make it nice and cold. Definitely going to look into that. In picking my product for the week I chose strawberry and chocolate shakes, peanutbutter chocolate bars and chicken soup. Hopefully they taste OK.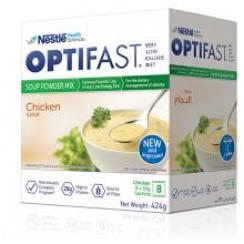 The point of the Optifast diet is to assist in losing some weight prior to surgery, help maintain good blood sugar levels, but more importantly to help shrink the size of your liver. Most overweight people have an enlarged fatty liver. I do. Laparoscopic surgery is easier for the surgeon and easier to recover from if the liver is smaller. Surgery can even be cancelled if they get in there and they can't access your stomach because of your enlarged liver. They say that studies show that if you follow this diet pre surgery that your chances of a quicker, easier recovery. I am all for that.
It's not all about the food
Exercise is also a part of the pre surgery program. Exercise is vital to a speedy recovery. Exercise prior to any surgery is proven to speed recovery and make recovery easier. As someone who has been VERY sedentary, I am kinda scared of exercise. I hurt. I hurt a lot. On top of knee pain due to the weight, I am experiencing overall joint pain. Just about every joint in my body hurts. It's an inflammatory issue of some kind. I take medication to keep it under control, but it causes me a lot of pain. Luckily these doctors understand that is the case and are realistic in their method to get you active again. For those who have not been moving much, they encourage you to start by walking in spurts. 5 times a day for 2 mins. I plan on starting with 5 times a day for 3 mins since I have been doing some walking already.
What is your favorite exercise that would be easy for someone starting out? I would love suggestions.